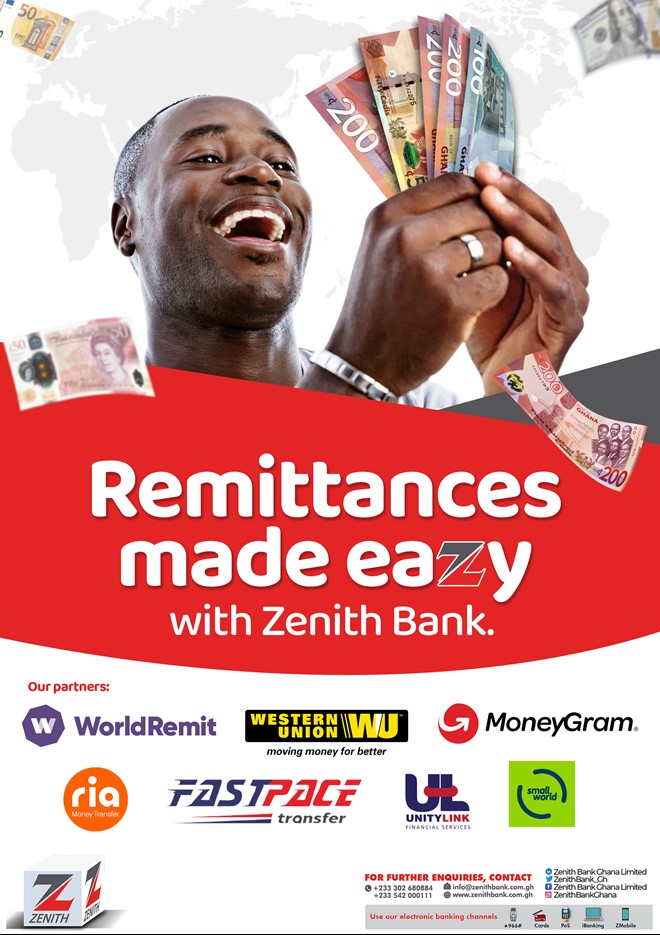 Remittances – cross-border money transfers from diaspora populations, who often have migrated ostensibly to improve their economic lot – serve as a primary source of household income in many developing economies. It must be mentioned that in many instances, remittances exceed official development aid.
Global remittances have always been a much-needed financial lifeline to low-income countries, many of which are in Africa. According to the World Bank's latest statistics for 2021, ten African countries that received the highest remittance inflows in order of the highest to the lowest were Nigeria, Ghana, Kenya, Senegal, Zimbabwe, DRC, Uganda, Mali, South Africa and Togo.
Data available on the Migration Data Portal indicates that in spite of the tight global economic conditions occasioned by the pandemic and recently, the Russia-Ukraine war, remittance flows to Low and Lower Middle-Income countries (LMICs) are expected to increase by 4.2 per cent to reach US$ 630 billion in 2022.
Remittances, on average, account for nearly 4 percent of the Gross Domestic Product (GDP) in low-income nations compared with about 1.5 percent of GDP for middle-income countries, according to the International Monetary Fund (IMF).
In the case of Ghana, it recorded a 5% increase in inflows which translated to $4.5 billion in 2021. It recorded $3.6 billion in 2020.
The domino effect of this increase on household income is a boost in consumer spending, accumulation of assets, avenues for self-employment, investment in small businesses and the overall growth of the wider economy.
Despite the invaluable contribution of remittances to economies such as ours, these inflows have historically been expensive. The aforementioned IMF statement suggests that for smaller remittances—under $200, which is often typical for lower-earning migrants—fees typically average 7 percent and can be as high as 15–20 percent in smaller migration corridors. This has been largely due to inefficiencies in sending channels.
Zenith Bank, a market leader well known for driving financial inclusion with its vast array of digital banking products and services has continued to provide solutions to make the sending and receiving of remittances easier.
Zenith Bank Money Transfer services, done in collaboration with International Money Transfer Organizations (IMTOs), FinTech/Aggregators, Payment Service Providers and Sub-Agents, such as Western Union, MoneyGram, Ria, Fast Pace, Unity Link, World Remit and Small World enable recipients in Ghana to have access to remittances sent to them from the diaspora.
This is done through the following channels:
Cash-Pick Up/Over the Counter: A transaction where some portion of the transfer is intermediated by an agent. Customers are able to visit any Zenith Bank branch as well as sub-agent locations, complete a form with the transaction details, and present a valid national ID for the teller to verify and confirm details before cash pay-out. Transfers sent through any of the following channels, can be picked up at all our locations: Western Union, MoneyGram, Ria, Unity Link, WorldRemit and Small World.
Terminations into Bank Accounts: This is where remittances are credited directly into beneficiaries' accounts without any action required from the recipient. Zenith Bank Ghana's current partners include: Ria, Unity Link, Thunes.
Termination into Mobile Money Wallets: With this, remittances are terminated directly into customers' mobile money wallets. Current partners for this service include WorldRemit and Thunes.
FinTech/Aggregator Partners: Ghana Interbank Payment and Settlement Systems Limited (GhIPSS) – In this instance, Zenith Bank Ghana collaborates with FinTech/Aggregators and the Bank's remittance partners to terminate transactions into Bank accounts in Ghana.
Telcos/Payment Service Providers: The Bank partners with Mobile Money Limited and Vodafone Ghana Mobile Financial Services Limited. to credit remittances directly into the Mobile Money wallets of beneficiaries in Ghana.
Sub-Agents: Zenith Bank Ghana also partners with regulated financial institutions like Savings and Loans companies and Rural Banks which are not principal remittance agents to pay-out remittances at their branches.
Benefits of receiving international remittances through Zenith Bank
Speed – customers get their funds within 5 minutes and instantly in their bank accounts or Mobile Money Wallets when they provide accurate transaction information at the teller point of any Zenith Bank branch.
Security - secured banking systems ensure the safety of customer transactions.
Flexibility – The Bank offers different options for customers to decide how they receive their funds.
Exceptional Customer Service – Zenith Bank staff are readily available to assist customers in case of any challenge. Customers can also call Zenith Direct, the Bank's 24hour Customer Contact Centre for assistance.
Why Zenith?
Zenith Bank Ghana is poised to make banking and the receipt of international remittances easier, faster and reliable. The Bank will continue to provide innovative solutions for its customers, maximise shareholder value, be responsible in the communities in which it operates and support the government in its agenda for development.
Zenith Bank is an African Bank providing global banking services in West Africa, the Middle East, Far East and Europe.
Zenith Bank (Ghana) Limited is a member of the Ghana Deposit Protection Scheme.