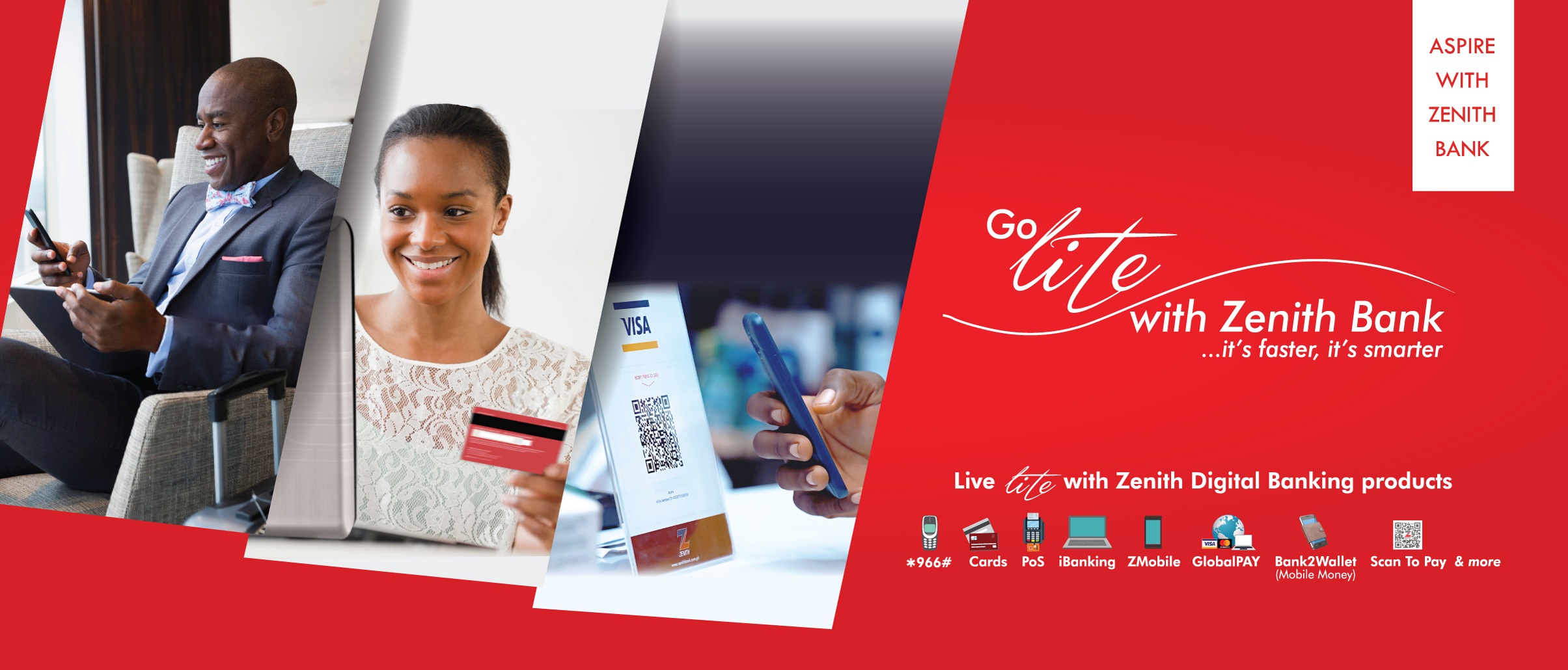 The disruptive power of technology has rendered most routine banking services just a decade ago, almost archaic. Indeed, the statement that the future of banking is digital is no longer a prediction but a reality.
Banks like Zenith Bank which envisaged this and made the run for technology have always stood out and provided customers with superior service delivery. As a financial institution, Zenith relies on its significant investment in technology solutions to satisfy the dynamic needs of their customers.
Zenith Bank Ghana, which turns 15 years in September 2020, has put in place a number of solutions as it continues to pursue its vision of being "a reference point in the provision of prompt, flawless and innovative banking products and services in the Ghanaian Banking industry".
Although the bank's drive to deploy technology in the delivery of banking solutions started as far as when it was founded, its recent 'Go Lite with Zenith Bank' campaign is what highlights the offering it has painstakingly curated to meet customers' satisfaction.
'Go Lite with Zenith Bank' presents a wide array of innovative digital banking products and services, developed over the years, to make banking transactions easier, safer, faster and smarter anytime, anywhere for customers and non-customers of the Bank.
Some of the products and services highlighted under the "Go Lite with Zenith Bank" campaign include the Bank's mobile banking application, Z-Mobile (available on Android and iOS), which was the first of its kind by a Ghanaian bank, Point of Sale Terminals, GlobalPAY, Scan to Pay as well as its USSD Code *966#, amongst others.
The bank also has a long-standing partnership with Mobile Network Operators (MNO's) to offer customers a seamless mobile money Bank2wallet experience across its various electronic channels such as Internet Banking, Zmobile App and GlobalPay web acquiring.
The fact that the bank was amongst the first in the Ghanaian banking industry to launch an app-based mobile banking service (Z-Mobile) available for both Apple and Android devices further attests to what the bank's strong outlook is.
Financial inclusion as a strategy
In many ways, Zenith has contributed immensely to the Ghanaian banking landscape. It has ridden on the back of functional technology to deliver superior products that are easily accessible to its cherished customers.
Zenith's wide array of digital services enables access to financial services even in the remotest of areas thereby enhancing Ghana's inclusive growth agenda.
By participating in the financial system, individuals are able to invest in their children's education, start a business, save and better absorb financial shocks.
Financial inclusion through the use of digital banking products and services continues to form a major part of Zenith Bank's strategy year-on-year.
Recognition
The bank's performance over the past decade and four years is filled with numerous industry awards. The bank's recognition ranges from its excellence in customer service to superior technology solutions as well as responsible corporate citizen role.
Last year alone, the bank was a recipient of awards from different awarding bodies including  Ghana Information Technology and Telecoms awards, Ghana Business Awards, Global Business Outlook awards. Global Finance Magazine, World Finance Magazine, etc.
While it seems the bank's investment into people, technology and customer service is paying off, the bank remains even more committed to going the extra mile to maintain the smile on the face of its customers.
Mr. Akindele Ogunranti, MD/CEO of the Bank, who was appointed last year is passionate about customer service and digital banking. He understands that the best form of service in the banking industry is when customers can conveniently carry out their financial transactions anytime, anywhere (in real-time).
Mr. Ogunranti's strategic direction therefore is to create a seamless synergy between customer service and the Bank's digital banking offerings by ensuring that banking works when and where a customer needs it. He is confident that the Bank's electronic products and services, built on robust systems, will continue to provide maximum value for its customers.
With the aforementioned, there is no doubt that Zenith Bank (Ghana) Limited, a reputable financial institution with a track record for good governance, strong financial performance, excellent customer service delivery and innovative product and service offerings is the bank to beat this year.